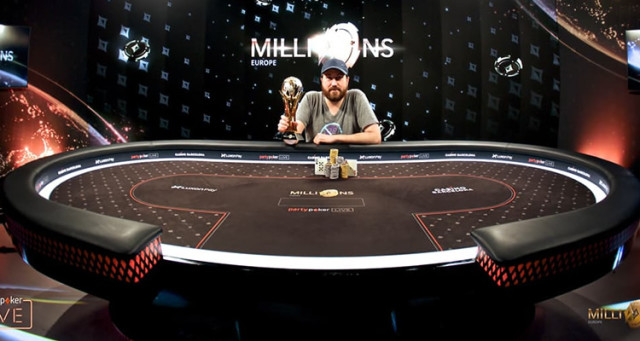 Steve O'Dwyer redondeó un domingo fantástico para terminar como el flamante campeón del Main Event del MILLIONS Europa en Casino Barcelona.
El gran torneo que marcó el regreso grande del circuito partypoker LIVE finalizó ayer con la consagración del estadounidense nacionalizado irlandés, todo un shark del poker online y en vivo con más de 31 millones en ganancias, quien había llegado como chipleader a la mesa final y no defraudó.
Sin soltar jamás el liderazgo, O'Dwyer dominó hasta consagrarse campeón junto con un premio de €250,000 que consiguió tras derrotar en el heads-up al neerlandés Luuk Gieles, quien por su segundo puesto facturó €168,000.
Después de una definición apasionante, la mano final no pudo ser menos y demostró que el torneo, al parecer, no podía quedar en manos de otro jugador que no sea Steve. Y si no, miren ese runner-runner salvador…
What an insane final hand! Congratulations to @steveodwyer on becoming the new #MILLIONSEurope Main Event Champion and winning €250,000! pic.twitter.com/oOhT0EF8I3

— partypoker (@partypoker) June 12, 2022
Un poco antes, el podio lo había completado Gergely Bartos por €122,000, el otro que se llevó seis cifras, mientras que cuarto finalizó Taras Khilho por €84,000.
La presencia del Team partypoker estuvo garantizada por Matt Staples, quien tuvo una gran actuación en Barcelona al caer como burbuja de la mesa final tras perder contra… Sí, el campeón O'Dwyer.
"Not like this…" Couldn't have said it better ourselves @henry_kilbane. @MattStaplesPKR just misses out on the final table of the #MILLIONSEurope Main Event.

We now have our final table, please join us tomorrow on https://t.co/E5kBpU4h8Y to see will be crowned champion! pic.twitter.com/ya9pO1eWl1

— partypoker (@partypoker) June 11, 2022
La mesa final del MILLIONS Europa
1° Steve O'Dwyer – €250,000
2° Luuk Gieles – €168,000
3° Gergely Bartos – €122,000
4° Taras Khilho – €84,000
5° Daniel Smyth – €65,000
6° Igor Picone – €50,000
7° Duco Ten Haven – €38,500
8° Pavel Brzeski – €29,000
9° Jelle Moene – €29,000